---
"The total gambling industry in Ireland is estimated at $18.7 billion in gross revenue in 2011."

Approximate Financial Snapshot as of 2/26/13

Shares Outstanding
41.2M
52 Wk Hi/Lo
0.30/

0.01

Market Cap
$4.12M
Recent Price
$0.10
Join the SmallCapReview mailing list

Compliance Systems (COPI)

Website: www.SeanieMac.com
"Global online gambling revenues currently total $32 billion, and are expected to grow 52% to reach $46.1 billion by the end of 2015."
---
Partnerships

-

Signed a major joint venture agreement with Ireland's largest, privately owned internet gambling company Boylesports. The Company today also reiterated its plan to launch wagering operations next month.

Commenting on the joint venture, COPI Chairman of the Board, Sean "SeanieMac" McEniff, said, "We have invested many months, and a couple million dollars, preparing for the SeanieMac commercial launch and the most important component of the business model was selecting the right platform partner.

Boylesports is Ireland's largest independent bookmaker with an estimated 1.2 billion Euros in 2012 gross revenue and over 1,200 employees. Established in 1989 by John Boyle, Boylesports is focused on the Irish/UK marketplace in addition to operations spanning Australia, France, Germany, Canada, Greece, Hong Kong and Spain.

Immediate Growth

-

SeanieMac will focus on providing its customer base with unique SeanieMac.com features, odds and promotional wagering specials -- starting with the GAA games and quickly expanding through the sports book, casino, poker, roulette, blackjack, baccarat, bingo and more.

Positive Cash Flow - COPI is targeting to be cash flow positive in the second half of 2013.
Emerging Industry - The Irish gambling industry generates $18.7 billion in revenue with approximately $3.2 billion being produced online and growing rapidly at double digit rates.

Niche

-

COPI's

GAA relationships enable them to secure streaming rights, through seaniemac.com of GAA's in-season games worldwide, as well as the ability to offer in-play GAA betting, which distinguishes the Company from its closest competitors.
Marketing- In addition to the multi-media blitz planned for the March launch, COPI marketing campaigns will include social and conventional media, TV, radio, print, web-based and public relations, advertising and cooperative marketing.
Target Market- Target market includes bettors in Ireland and the UK, and Irish expatriates & descendants in the United Kingdom that bet online through mobile devices, pub affiliates and by phone, on sports, casino games, and poker.
Market Share - SeanieMac is well positioned to become the only full-service online betting website that focuses on the Irish market, Irish bettors and Irish sports, such as the Gaelic Games. COPI is targeting the Irish market where the McEniff family name ensures instant brand recognition, as well as credibility and quality.

Gaining Exposure

-

Announced that it has been featured recently in mulitple newspapers including the Irish Independent, Ireland's best selling daily newspaper.

Highly Scalable - As a purely online business, SeanieMac has no cost of goods, inventory or shipping. All of the odds and risk management are managed by sophisticated software and have been market tested. Once overhead is covered, margins are extremely high and profits can grow quickly.
---
The SeanieMac Beginning
There is a lot of overlap between the hospitality and gambling industries as is clear in the U.S. with its integration of hotels and casinos. Over the last 20 years, Sean McEniff has built a successful hotel business as a principal in Brian McEniff Hotels, which owns eight resorts throughout Ireland. Relatively speaking, the McEniff name in Ireland would be considered the equivalent of the Trump name in the United States.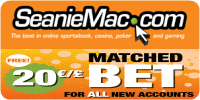 SeanieMac.com Customers to Win
While the Company will benefit through a comprehensive partnership with Boylesports for a highly scalable business model, SeanieMac.com customers will be the big winners. SeanieMac customers will be able to wager with a boutique, locally owned Internet gambling firm with historically strong roots in the Irish culture, hospitality, media and sports.
Sean McEniff says "This is a major milestone for SeanieMac, and we are excited to plan a strong and successful launch of wagering operations in March. Currently, we are focusing on a major, multi faceted media campaign, which will feature a number of prominent former GAA athletes and extensive television and other media buys, the details of which we plan to announce shortly."
---
Compliance Systems (COPI) owns and operates www.SeanieMac.com, an online sports and casino wagering web-based platform serving gamblers and plans to launch wagering operations in March.
COPI will provide online sportsbook, casino, poker, and gaming gambling services. It enables gambling for sports, such as football, horse and ante post racing, baseball, basketball, boxing, cricket, cycling, darts, golf, hurling, politics, rugby, snooker, speedway, tennis, novelty markets, Moto GP, Formula 1, royal ascot, Cheltenham festival, slot machines, video poker, table games, and instant win games; and casino games.
While the site offers wagering for many categories outside of sports, SeanieMac intends to capture the Irish market by initially focusing on the Gaelic Athletics Association (GAA) or Gaelic Games as well as Irish horse racing and soccer.
COPI is the only full-service online betting website that is Irish owned and focused on the underserved Irish market, Irish bettors and Irish sports book.
---
Recent News and Press Releases
SeanieMac.com (COPI) Announces Completion of TV Commercials Featuring Top GAA Stars and A-List Celebrities
A New Audio Interview With Shane O'Driscoll, Co-Founder and Deputy CEO of SeanieMac Limited, is Now at SmallCapVoice.com
SeanieMac.com (COPI) Announces Investor Relation Website
SeanieMac.com to Launch Live Sports Book Wagering Operations March 26; Casino Gambling to Follow in April
SeanieMac.com (COPI) Featured in Ireland's Independent Daily Newspaper; Headline: "McEniff Out to Trump Donald"
COPI's SeanieMac.com Signs JV With Boylesports: Leading Irish Internet Gambling Company to Provide Private Labeled Platform, Front Office and Marketing Support
SeanieMac.com (COPI) Announces Irish Media Coverage
COPI's SeanieMac Issues Special Letter to Shareholders; SeanieMac.com to Launch Wagering Operations Next Month
COPI's SeanieMac Appoints Two to Board of Directors
COPI's SeanieMac Appoints Sean McEniff Chairman of the Board; Renowned Irish Hotelier and Former GAA Athlete Sees Valuable Market Niche
For the latest Quote and News on COPI Click Here.
---
SeanieMac plans to launch wagering operations in March with:
Sports Betting: SeanieMac offers both pre-live and live in-game betting opportunities for a wide range of sports, the largest and most well known industry segment.
Casinos: Traditional casino, live casino, poker, bingo and interactive skilled games
Traditional Casino Games: Automated casino games such as roulette, blackjack and baccarat.
Live Casino Games: Table games that are broadcast via a live video stream with real dealers and Croupiers, in an attempt to convey more of the atmosphere of a physical casino.
Poker: SeanieMac offers poker games such as Texas Hold'em No Limit, Limit and Fixed Limit, No Limit Omaha, No Limit Omaha Hi-Lo, 7 Card Stud, 5 Card Stud and Razz.
Other Skilled and Interactive Games: SeanieMac offers bingo and other skilled and interactive games that are programmed with random number generation to ensure constant fairness for all parties and that can be played for Real money or Free Play.
---
Industry analysts report global online gambling revenues currently total $32 billion, and are expected to grow 52% to reach $46.1 billion by the end of 2015. Clearly, this is a vast marketplace with strong growth.
Online gambling is quickly becoming a key driver in the gambling industry as a whole. Since 2003, the market has grown by an annual average of 23%, while the gambling industry as a whole grew an average of 15% during the same time period. Sports betting is the strongest category of online gambling, representing 41% of the market's overall value.
The total gambling industry in Ireland is estimated at $18.7 billion in gross revenue in 2011. Its gross revenues from online gambling reached $1.7 billion in 2011, or approximately 5% of the global market. According to the Irish Examiner, the Irish online gambling market is estimated at $3.2 billion in 2012. Extrapolating industry growth as a whole on the Irish market, Irish online gambling is expected to grow to $6.5 billion in 2015 and reach $9.8 billion by 2020.
---
Sean McEniff - Co-Founder, President and Chairman of the Board of Directors
Sean McEniff is a well-known hotelier and business personality in the northwest of Ireland with over 30 years expereince in the hospitality and sports industries, including 20 years as a principal, Chairman or Director in the Brian McEniff Hotel Group, with its eight resorts, where he continues to serve as Managing Executive. Mr. McEniff's extensive expertise in sales, marketing and public relations has been a key factor in the McEniff Hotel Group's success. Previously, he has ten years experience as a competitive athlete in Ireland's GAA Gaelic Games.
There, Mr. McEniff represented his native county Donegal at minor, U-21 and senior level. Honors achieved included an Ulster minor medal in 1982, four Ulster Colleges medals with De la Salle, Ballyshannon, Intervarsity Trench Cup success with D.I.T. in 1987, a Canadian Championship medal with Clan na nGael, Toronto, in 1989.
The McEniff name is household in national GAA circles; Mr. McEniff's father, Brian McEniff, lead Donegal to their first All-Ireland Senior Gaelic football title in 1992, and also coached the Irish Compromise Rules team to success against Australia in 2000 and 2001.
Mr. McEniff earned his BA degree in Business Studies from D.I.T., Dublin.
Barry M. Brookstein - Chief Executive Officer, Chief Financial Officer and Director
Mr. Brookstein served as the Chief Financial Officer of Compliance Systems Corporation and each of its subsidiaries from such entities' formation through the recent merger into our company in February 2006. Since the 2006 merger, he served as the CFO of Compliance Systems Corp and each of our subsidiaries, as well as Secretary, Treasurer and Director. In November 2010, he became Chief Executive Officer of Compliance Systems Corp. Prior, Mr. Brookstein served full-time to his accounting practice. Mr. Brookstein is a graduate of Pace University and has over 40 years of experience in public accounting.
Shane O'Driscoll - Co-Founder and Director
Shane O'Driscoll is a Co-Founder of Seanie Mac. From 2008 to present, he has served as Entertainment Director at INEC, Gleneagle Hotel Group, Killarney, Ireland. Mr. O'Driscoll's duties include managing a staff of over 30 employees, all event, festival and production management and procurement of artists and talent for shows. From January 2007 to the present, he has also served as the Director of the Killarney Summerfest.
Some of Mr. O'Driscoll's key achievements include: increased annual entertainment revenue of the INEC by over 150% over five years; generated substantial sponsorship revenue; produced artist events such as Elton John, Bryan Adams, David Gray, Van Morrison, Snow Patrol, Paolo Nutini, Des Bishop, Billy Connelly, Willie Nelson, Imelda May, Jedward, Westlife, Meatloaf, Simple Minds and many more international artists as well as the majority of Irish country music, comedy, rock and pop acts; listed in the "Who's Who" of the Irish Entertainment Industry by Hot Press for five years in a row.
---
---
Compliance Systems Corp.
1 Astra Centre
Edinburgh Way
Harlow, CM20 2BN
United Kingdom
---
SmallCapReview.com feature stock reports are intended to be stock ideas, not recommendations. Please do your own research before investing. It is crucial that you at least look at current SEC filings and read the latest press releases. Information contained in this report was extracted from current documents filed with the SEC, the company website and other publicly available sources deemed reliable. For more information see our disclaimer section, a link of which can be found on our website. This document contains forward-looking statements, particularly as related to the business plans of the Company, within the meaning of Section 27A of the Securities Act of 1933 and Sections 21E of the Securities Exchange Act of 1934, and is subject to the safe harbor created by these sections. Actual results may differ materially from the Company's expectations and estimates. The information provided in this report is not intended for distribution to, or use by, any person or entity in any jurisdiction or country where such distribution or use would be contrary to law or regulation or which would subject us to any registration requirement within such jurisdiction or country.
Copyright SmallCapReview. All rights reserved. SCR is not a Registered Broker/Dealer or Financial Advisor. All materials presented on our website and individual reports released to the public through this website, e-mail or any other means of transmission are not to be regarded as investment advice and are only for informative purposes. Before making a purchase or sale of any securities featured on our web site or mentioned in our reports, we strongly encourage and recommend consultation with a registered securities representative. This is not to be construed as a solicitation or recommendation to buy or sell securities. Past performance of our profiled stocks is not indicative of future results. The profile and opinions expressed herein are expressed as of the date the profile is posted on site and are subject to change without notice. No investor should assume that reliance on the views, opinions or recommendations contained herein will produce profitable results. SmallCapReview may hold positions in securities mentioned herein, and may make purchases or sales in such securities featured on our website or within our reports In order to be in full compliance with the Securities Act of 1933, Section 17(b), SCR will disclose in it's disclaimer, what, if any compensation was received for our efforts in researching, presenting and disseminating this information to our subscriber database and featuring the report on the SmallCapReview website. SmallCapReview has been compensated three thousand five hundred dollars by a third party SmallCapVoice for its efforts with regards to Compliance Systems. As with any stock, companies we select to profile involve a degree of investment risk and volatility, particularly small-caps. All investors are cautioned that they may lose all or a portion of their investment if they decide to make a purchase in any of our profiled companies.
We encourage our readers to invest carefully and read the investor information available at the web sites of the Securities and Exchange Commission (SEC) at: http://www.sec.gov and/or the National Association of Securities Dealers (NASD) at: http://www.nasd.com. Readers can review all public filings by companies at the SEC's EDGAR page. The NASD has published information on how to invest carefully at its website.
---